Monica Mustavaara on Camilla Mustavaaran pikkusisko. Monica on ammatiltaan juristi. Monica toimi Mikko Kannaksen asianajajana Mikon ja Joonatan Sievisen välisessä oikeustaistelussa.
Myöhemmin Monica kiinnostui Katariinan salaklinikasta. Monica alkoi saada Katariinan tavoin uhkauksia, joiden takana oli Rönkkö. Sergei onnistui järjestämään Rönkön vankilaan, mutta Rönkön karattua hän soluttautui kätyreidensä kanssa Katariinan salaklinikan hyväntekeväisyystanssiaisiin.
Monica on siskonsa tavoin tyylikäs ja itsevarma nainen, mutta Monica on siskoaan lämpimämpi. Hän on ihmisläheinen ja älykäs, hieman uteliaskin luonne. Monica on sanavalmis ja tarvittaessa lujatahtoinenkin ihminen. Hän suhtautuu työhönsä määrätietoisesti ja kunnianhimoisesti. Vaikkakin hieman varautunut, on Monica hurmaava ja ystävällinen personaallinen
Sukulaissuhteet
Edit
Ystävyyssuhteet
Edit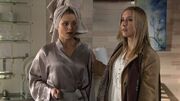 Ad blocker interference detected!
Wikia is a free-to-use site that makes money from advertising. We have a modified experience for viewers using ad blockers

Wikia is not accessible if you've made further modifications. Remove the custom ad blocker rule(s) and the page will load as expected.